Midweek Sailing 2017 - End of Season Report and Final Results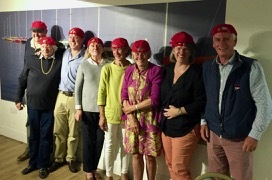 Published 10:00 on 15 Sep 2017
A great evening was enjoyed by 70 sailors and partners at the end of season dinner for the Wednesday and Thursday midweek sailing series.
The midweek captain, Guy Mattinson's report follows:
"The season has been a success if we are to go by the number of boats sailed. For both Wednesday and Thursday we have had a good average of 10 boats out on the start line. The season has been a relatively short season. We set out to sail 14 races on both days. Wednesday was the one that suffered the most losses due to the lack of wind, where we lost five races. Whereas Thursday only missed out on one race.
As part of our main sunset series, we have had a successful year with the Team racing. We have raced against BHYC and RVYC. Sadly we were unable to sail against the RSYC as the wind was just too strong. Our annual four way event was a great success, against these three clubs. We proved unbeatable over the season, so congratulations to all those that took part in the team racing. The Green Welly, I was told was a great success, sadly I was unable to attend, with a good turn out from the farmers. Thank you to Nick Hayward for organising the farmers.
At one point I was beginning to worry if we would ever be able to hold the Warner Trophy. We had to postpone the race twice as there was not enough wind to get us out to the Warner. In the end all three trophy races were raced in one week, with good wind for all three.
The Sunset Series would not be possible without the support of a large number of people. Forgive me if I don't mention everyone, but from the club there is Nick and his team, who I am glad are able to join us this evening. Charlotte and her staff, especially Mike who works tirelessly behind the scenes to produce such good food, trying to judge if we have 35 or 55 people coming for supper.
A huge thank you must go to the team of race officers who step in to help on the deck, Min Close, Hugh Eddowes, Jo Haigh, Liz Strachan, Joy Almond, Diane Foxley, Clare Graham, Sally Taylor and Mandy Steward. You have been a huge help in coming to the rescue on several occasions when we were short of help on the deck.
And finally thank you to the Midweek Race Officers who have carried out their duties, in most cases, with outstanding efficiency and professionalism!
For the statisticians amongst us, we have averaged over 10 boats throughout the season. There is a bit of a slow uptake at the beginning of the season as the fair weather sailors amongst us are not too keen to brave the ice cold April waters. We have had nearly forty different helms racing over the two days. It has been good to see so many new and young sailors having ago this year.
There has been an average of 15 races per boat. If you were a betting man then (Pale Blue) would have been the one to put your money on this year, leading on average, with 2 wins and 4 seconds. Scuttle was the boat to be avoided based on an average result. This shows how evenly matched they are, or has Scuttle been scuttled in some way? Scuttle was actually the favoured boat last year. (Bluebell) and (Sheen) did not win a single race.
So who won what? There were 8 helms who sailed enough races on Wednesday and 7 helms on the Thursday series, who qualify for the trophy scoring criteria."
The final results were:
| | |
| --- | --- |
| Warner Trophy | 1st - Peter Eddis, 2nd - J Boswell, 3rd - R Bowtell |
| Will Caws Trophy | 1st - Noel Dobbs, 2nd - G Mattinson, 3rd M Harrison |
| Single-Handed Race | 1st - Martin Harrison, 2nd - H Mills, 3rd - P Eddis |
| Wednesday Midweek Series – Thelma Coles Cup | 1st - Noel Dobbs (7p), 2nd - M Harrison (10p), 3rd - R Holbrook (11p) |
| Thursday Midweek Series – Thomas Tankard | 1st - Jeremy Pocock (10p), 2nd - J Boswell (16p), 3rd - J Betchley (20p) |
| Pairs Porringer | Noel Dobbs, Jenny Boswell and able crew Juliette Bristow |
| Nimmo Tankard | Mandy Steward |
| The Midweek Sailor | 1st - Jeremy Pocock, 2nd - G Mattinson, 3rd - J King, 4th - J Spence |
The evening concluded with a raffle and the usual fines for misdemeanours during the season.
Over £1000 was raised for the charity Challenge and Adventure.
Last updated 13:58 on 26 February 2021