Event Space Hire
Sea View Yacht Club Event Space
The Sea View Yacht Club is perched over the Solent on the North East coast of the Isle of Wight. It offers panoramic sea views and has the flexibility of combining separate spaces which can be hired individually or joined together to cater for your event space needs. We are available for both private hire by our members and also non-members (excluding mid-July until the end of August), so we can also offer our event space for conferences and for training and team-building purposes.
Here are some of the occasions you may need to book a venue for:
· Weddings and Christenings
· Birthday Parties for any age, young or old or in-between
· Charity events
· Black tie dinners
· Conferences/meetings
· Team-building exercises
· Courses
· Training sessions
What spaces can we offer within the Club
The Mermaid Room
The Mermaid Room is a large open plan space with soft furnishings and a bar. Positioned on the first floor, it has dramatic 360 degree sea views and opens out, through tall glass bifold doors, onto the Race Deck and side deck where you can watch the sunset while you sip your rose!
The Mermaid Room is an excellent space for wedding receptions, and similar family celebrations. Depending on the season, you can shelter from the inclement weather or alternatively wander outside to enjoy the sunshine.
It can be set up as a conference space with TV/wifi access for Zoom attendees or for uploading material. The room can be arranged using our round or rectangular tables or simply cinema style with up to 80 chairs facing forward. Anything is possible. Capacity: 80
The Downstairs Dining and Bar Area
This is a larger and more informal space compared to the Mermaid Room. It has a ships interior feel to it and consists of two connecting areas, one of which has a bar. This area is perfect for large groups who need space for dining or alternatively can be subdivided into dining and bar areas. If you are thinking of having an indoor dance or band, this space is ideal. Or if your dining and dancing is outside, this area is perfect for a casino, cocktail and whisky bars, childrens entertainment etc. Capacity: 100
The Space under the Awning
The outdoor space under the awning is perfect for large drinks or dinner parties or for corporate briefings and meet and greets. You instantly have a sense of being beside the sea and yet the awning offers shelter from the sun and the rain. The awning can also be rolled up or down around the sides to create a wind break. So whether its mid-July or mid-January (with the addition of our outdoor heaters!), this area can be used as a large entertaining or meeting space. Capacity: 100
The Staging
The Staging is a large, stunning, outdoor (unsheltered) space. It is a wooden structure that sits like a table top over the sea and rocks beneath. It can be used with picnic tables and benches in place or cleared to allow for large drinks or dancing events. It can act as an additional space connected to the awning space and internal Club areas or as a stand alone. Of course, it relies on the weather being kind but in the summer, under the sunny skies there really is no better place, possibly in the whole of the solent, to spend time with friends or colleagues. Capacity: 100
Catering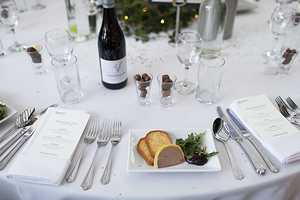 We offer a comprehensive catering service so whether your event is celebratory or a simple get-together, formal or casual, family or corporate, we can offer you a bespoke service. Our House team are here to listen to exactly what you need and design the catering package around your event, seamlessly. Here are some extras you may also be interested in:
· Mixologist
· Whisky and Cigar bar
· Gin Bar
Entertainment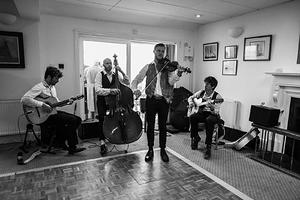 Whatever the event, we are able to provide the add-on entertainment to go alongside:
· Band
· DJ
· Singer/musician
· Magician
· Casino
· Ice luge
· Photo booth
As you can see, the Sea View Yacht Club has everything to offer anyone interested in booking an event. The first step is just as simple. Please get in touch.
Email secretary@svyc.org.uk